November 13, 2013
Author Article
Doctrine
Pentecostalism
"The Normal Christian Birth" is a book by David Pawson – a man whose preaching I have respected for a very long time. You can also listen to Pawson's messages on the subject, downloading mp3 sermons for free at www.davidpawson.org.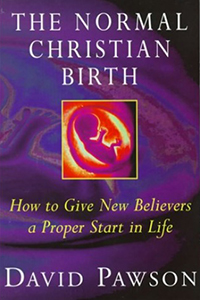 Pawson maintains that we have misunderstood the process of being born again in recent years. Examining Scripture – especially accounts of how Christians were saved in the book of Acts – he shows that being born again is a four stage process.
Repentance. The first step is always to recognize one's sin and to repent of it.

Believing. The second step is to believe in Jesus – to put one's trust in him totally.

Baptism. The word baptism means immersion. In the New Testament this was alwats done to believers only, not to infants. Although not necessary for salvation, it is none the less mandated by Jesus. Therefore, being baptized is part of our obedience to Him. If we genuinly want to follow Jesus, why would we start off our Christian lives by failing to obey Jesus in the first command that He gave to Christians.

Receiving. Just as baptism in water is not necessary for salvation, neither is Receiving or Being Baptized into the Holy Spirit. Nevertheless, it is clear that this is a necessary process or event for Christians.
In Acts 19, we see all 4 of these aspects. Paul asks the people "Did you receive the Holy Spirit when you believed?" Why is Paul asking this? It is because it is possible to believe without receiving the Holy Spirit. Cessationists refuse to accept this, claiming that we have the Holy Spirit when we believe. This one simple question by Paul shows that the cessationist argument is incorrect. Sometimes, cessationists claim that these people's belief was not real faith. Yet this is also contradicted by Paul's acknowledgment that the baptism the people had received was to do with repentance. Given the inadequate baptism, Paul has no hesitatio in having these people baptized again, because they were genuine believers; this time the baptism was sound. Then the people receive the Holy Spirit at the laying on of hands, and they begin to speak in tongues.
Pawson goes into a whole lot more detail than I can here, and discusses how many other passages in the New Testament match this account. For now, we should note that effective Christians should have been taken through all four of these stages. None of them is actually optional, for a mature Christian.