by Geraldene Wootton and Paul Taylor, with illustrations by Ben Scotton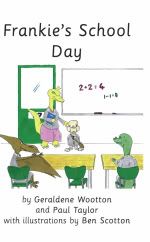 This little book for children is the first of a series of books about creation. Frankie is a little dinosaur. It is his first day at school, and he is worried about it, because of things that his big sister Dolly has said. While Mum is sorting out the problem, she tells the little dinosaurs about Cain and Abel.
The book is carefully written for children from five to eleven, using the Sassoon Primary Font.
The book is available from both Answers in Genesis and also the shop attached to this site.